Cccupational Health and Safety
Home
/
Cccupational Health and Safety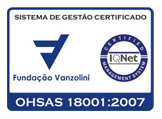 Work safely has always been one of our main approaches aimed at protecting the integrity of the human person.
So always work within the standards and legal requirements, and also meet the specific requirements of each client.
For each activity are made preliminary analysis of the risks and the necessary security measures are planned to prevent accidents, such as use of personal protective equipment duly approved of safety and admission / specific recycling training for each function.
The company also has an Emergency Plan which provides how to act in claims occurrences. Inspections of equipment, vehicles and facilities (office and works) are periodically performed.